You should be presented with the following screenshot.

Using Management Console
You can learn a lot about Vertica and MC by just clicking around. "MC Settings" allows you to modify the config values you specified above. This is independent of any clusters you may wish to manage using MC.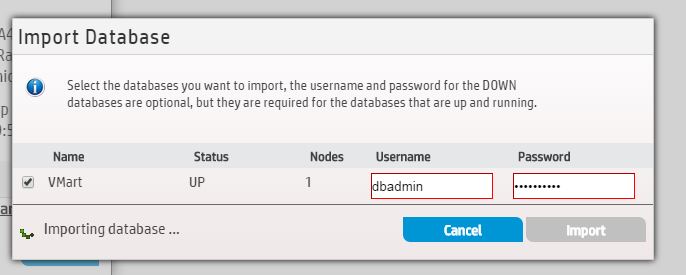 The first task you'll want to do is import your existing (one node) cluster. Click "Database and Clusters" and then Import. Since (if) you installed MC onto an existing cluster node the database will be auto-discovered. You simply have to supply your username/password. If you supply your dbadmin password you will be able to manage all aspects of your cluster. If you only have a limited user account (say, because you only need access to database designer) then add that account here and you will see only limited functionality you have permission to perform.
You should receive a success message. You can now discover MC and lots of Vertica features on your own.

I'll point out some interesting MC features that are worth exploring next.
Message Center
The Message Center will display errors (like the Error Log in ssms) as well as alert conditions. Here you can see that my cluster is not k-safe (we'll fix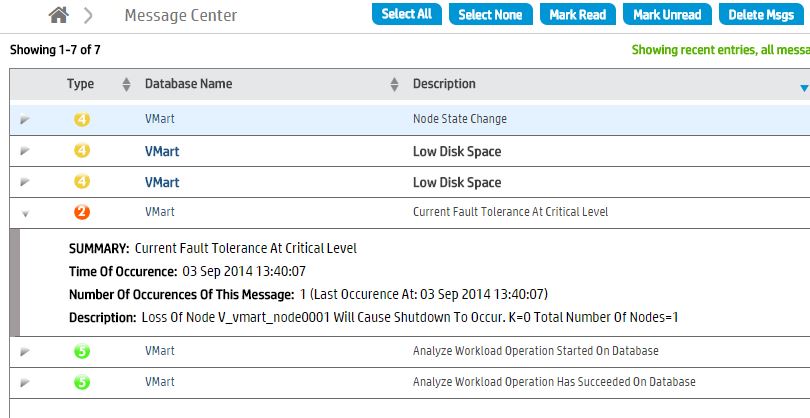 that in a later blog post). One interesting feature is that you have the ability to mark messages as "read", similar to email. You can basically dismiss messages that you don't wish to see again. This cuts down on the noise messages. What is slightly confusing to noobs is how to "expand" a message to read the details. You use the triange to the left of the priority indicator.
Database Overview Page
You access this page by clicking on the "Recent Databases" option for the cluster you just configured.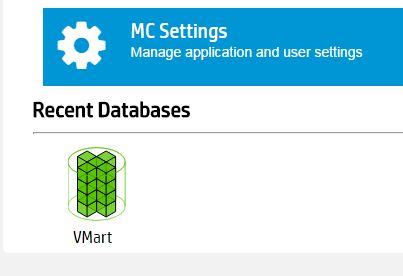 You will be presented with the dashboard/overview page.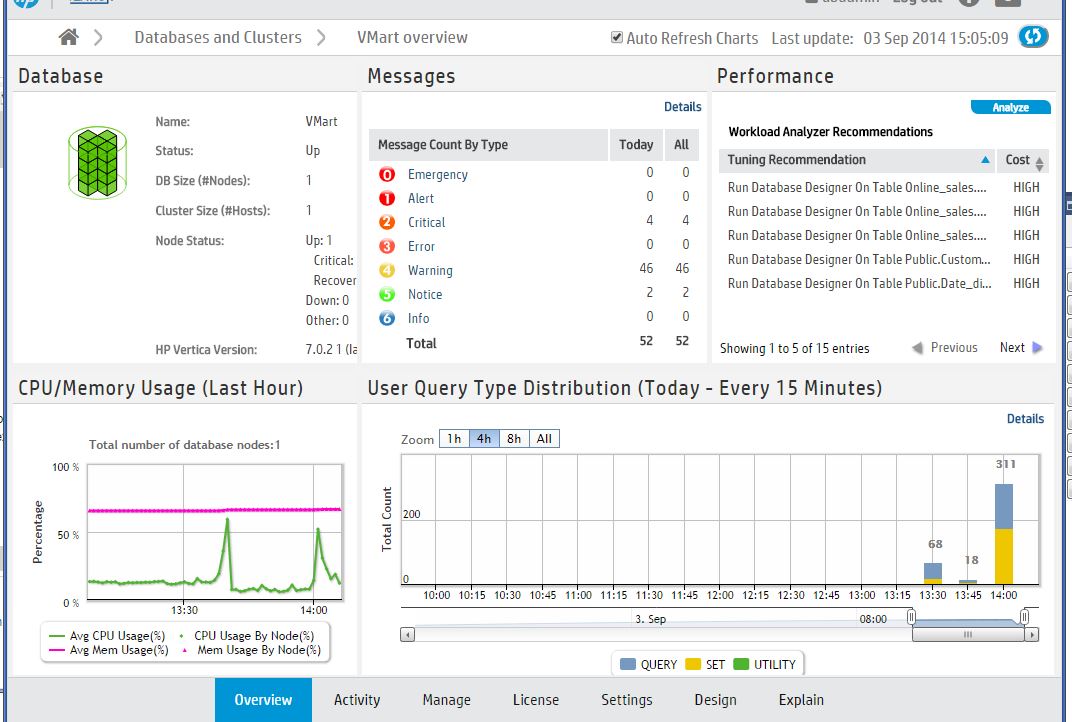 There are tabs along the bottom of the page to access additional functionality. Most interesting is the Design Page which launches the graphical Database Designer wizard. We'll cover this in detail in a future blog post. In a nutshell, this utility let's us tweak our physical designs for performance and k-safety.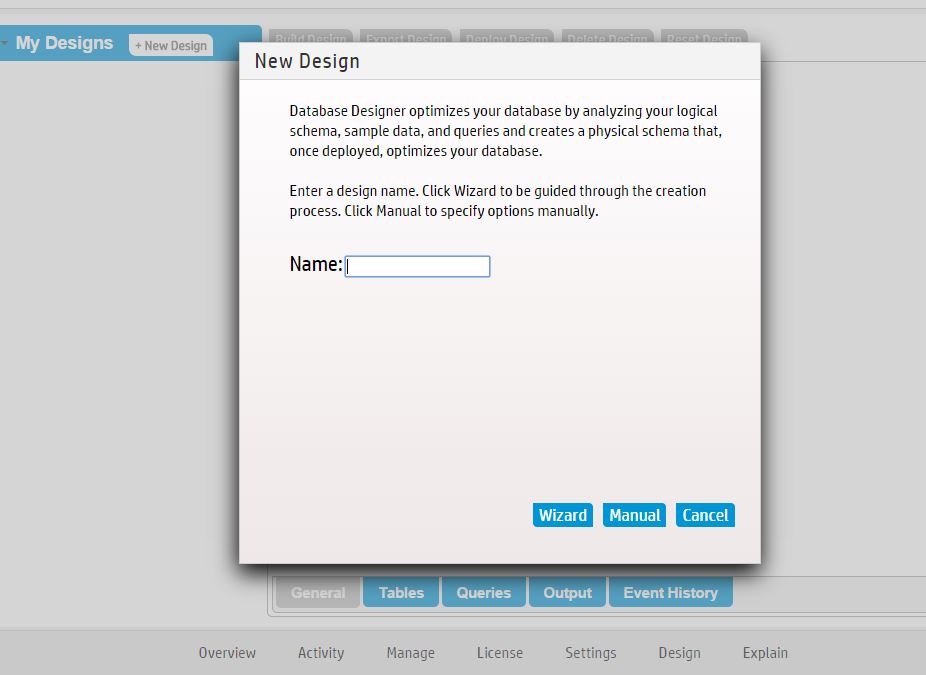 Finally, the Explain tab allows you to execute SQL statements and view performance metrics. I quickly typed a simple query and generated an EXPLAIN plan.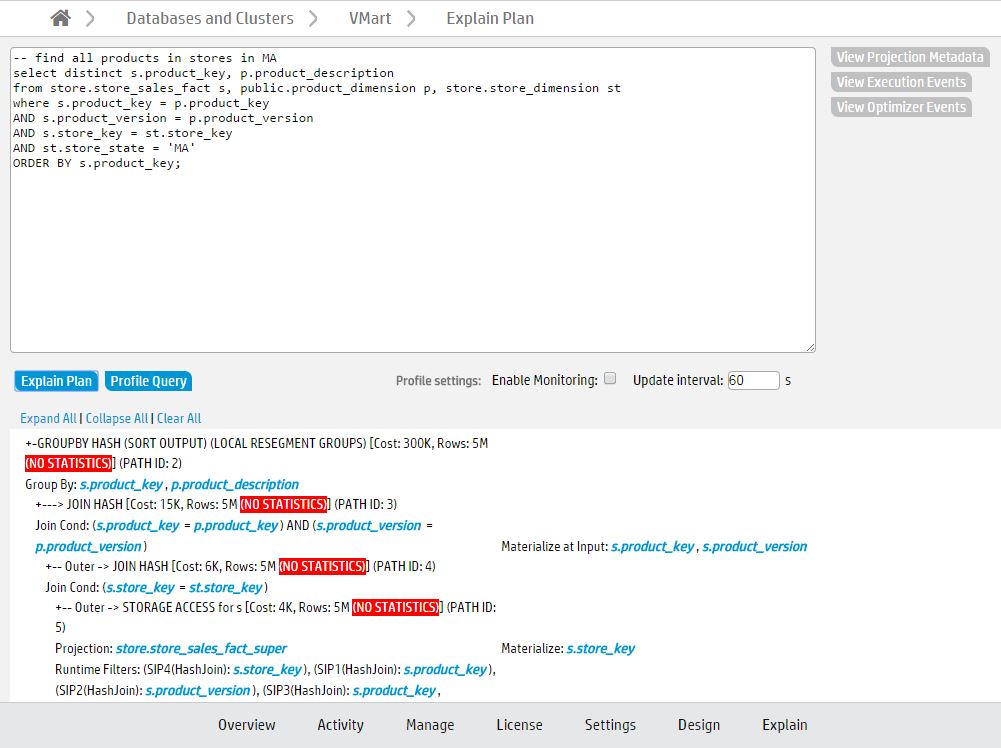 An EXPLAIN plan is equivalent to "Display Estimated Execution Plan" in that the query is not executed but an approximate query plan is returned. The PROFILE option actually executes the query and shows detailed CPU and memory usage.
You can find interesting VMart queries in /opt/vertica/examples/VMart_Schema. Use nano to examine these files or copy them to MC and took at the EXPLAIN plans.
We'll cover some additional management tools in the next post.
---
You have just read "[[Installing Vertica Management Console]]" on davewentzel.com. If you found this useful please feel free to subscribe to the RSS feed.