Upgrading Guacamole
Submitted by

Dave Wentzel

on Thu, 2014-08-14 15:00
Update:  Upgrading to guac 0.9.4
I wrote about Guacamole (a client-less RDP Gateway) a few months ago.  In that post I covered how to install Guacamole 0.9.0 on a Ubuntu server.  In this post I'll quickly cover how to upgrade 0.9.0 to guac 0.9.2.  Actually, this method should work for any guac upgrade.  
Firstly, what is guacamole?  Let's say you need to RDP (or even SSH or VNC) to a machine at a client site (or your home).  You can certainly use a VPN to tunnel the RDP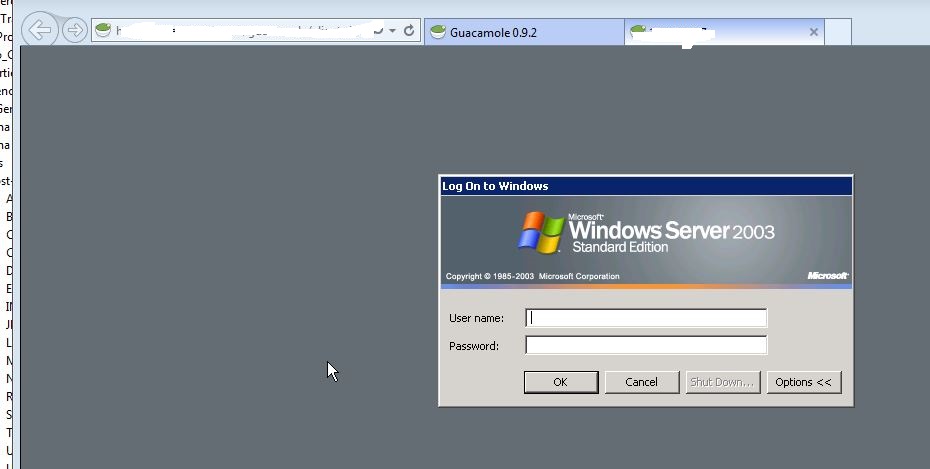 traffic for port 3389.  Or you could poke a hole in your  firewall for 3389 (which is a bad idea).  Guacamole is a nifty alternative.  It runs on a Ubuntu VM (for one or two connections you need about 256MB RAM) allowing you to RDP to any server behind the firewall using HTTP(S) ports ONLY.  It's wicked fast and even works on a smartphone without having to deal with a VPN setup.  When you log in to your Guacamole server you pick which internal server you want to RDP to and you get a RDP session right in the browser.  To the right is a screenshot of an RDP session from IE 9.  It's like the mstsc client is right in your browser!  Below is a screenshot of a guac connection using my Galaxy S5...no VPN, no RDP app...you do it right from the browser.  
The Upgrade Process
Sometimes OSS like guacamole lacks documentation, or at least good documentation for noobs.  Guac doesn't have an official upgrade document so I worked out the kinks on my own.  
We are going to follow the steps in my original post on setting up guac.  Please refer to that as needed.  
Take a backup of your VM or at least your .properties file and user file.  
Do Step 4 and 5 in my original blog post but change the file name to 0.9.2.  
Replace the old war file with the new version you just downloaded:  

sudo mv guacamole-0.9.2.war /var/lib/tomcat7/webapps/guacamole.war

Do Step 6 and 7.  
I think there is a bug in make with guac where they reference uuid incorrectly, but I'm not the expert.  I didn't want to change the official configure script (which has lots of checkins regarding the uuid bug) so I got it to finally work by installing a few extra packages.  Run this command:  

sudo apt-get install uuid osspd osspd-alsa osspd-dbg osspd-pulseaudio libossp-sa12 libossp-sa-dev 

ibossp-uuid16 libossp-uuid-dev libossp-uuid-perl

Now you can run steps 8 - 12.  
Restart Ubuntu.  
Close your browser and reopen it (otherwise the javascript from the old version will be cached and guac will act strangely).  
Connect to your previous guac URL and log in.  
I don't advocate upgrading software unless there is a compelling reason to do so.  Guacamole 0.9.2 anecdotally seems to be quite a bit faster than 0.9.0, especially over low-bandwidth connections such as Android tablets.  In all, I can't praise the guac team enough for this great piece of software.  I use guac daily for hours at a time and it just works perfectly.  
---
You have just read Upgrading Guacamole on davewentzel.com. If you found this useful please feel free to subscribe to the RSS feed.